Ban Gai Baat Unka Karam Ho Gaya
Ban Gai Baat Unka Karam Ho Gaya is one of the favourite Naat by Amjad Sabri. The melodious and rich voice of Amjad Sabri is admired by the fans. Amjad Sabri has recorded this Perfect quality and favourite Naat Sharif in MP3 format. To download Amjad Sabri's Naat Ban Gai Baat Unka Karam Ho Gaya on your Device, simply click the three dots and then download.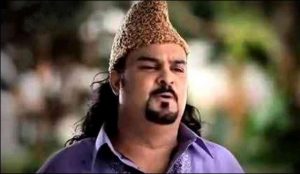 Amjad Sabri Hails from the province of Sindh, and city of Karachi. He belongs to a famous sufi family of Pakistan. His Father Ghulam Fareed Sabri and Uncle Maqbool Ahmed Sabri are the well-known qawal of the early 60's and late 70's. They were known as "sabri brothers". They are the most heared singers and qawals of the sub-continent. Amjad Sabri leart the art of singing and qawali from his late father fareed sabri. In his early time AMjad Sabri used to appear in his father's group sabri brothers in the back line following his father and uncle. This was a part of his training. He recorded the poem of Allama Iqbal in a Bbollywood film. His very first album was "Balaghal Ola Be Kamalehi" in which he highlighted famous work of his late father and uncle .Their most listened project was "sare la makan sy talab hui". This track was later sung by Amjad sabri too in a completely new tone. Amjad Sabri's Tajdare Haram was among the last work he did before going to eternal life. He used to appear in ramzan morning show along with waseem badami and others .On the day of june, 22 year 2016 while he was back to home after recording the show he was shot bullets by motorcyclist in the area of liaquatabad Karachi.He was sent to hospital in emergency but could'nt survive. May Allah Bless him peace and paradise.He hass been awarded pride of performance award and highest civil award of the country Sitara-e- Imtiaz in 2018 after his death. His death placed a vacant space in the industry. He was a gem stone. People still love to listen his kalam. He will always be alive in our hearts.
Disclaimer
: All the audio Naats at NaatSharif.com have been published by the users of NaatSharif.com, However if you believe that your copyrighted content has been posted without your permission, please
submit copyright complaint.