Allah Ne Pohanchaya Sarkar Ke Qadmon Mein
Allah Ne Pohanchaya Sarkar Ke Qadmon Mein is one of the best Naat Sharif by Aamir Liaquat Hussain. The soft and tuneful voice of Aamir Liaquat Hussain is loved by the fans. Aamir Liaquat Hussain has recorded this Fabulous quality and best Naat Sharif in MP3 format. To download Aamir Liaquat Hussain's Naat Allah Ne Pohanchaya Sarkar Ke Qadmon Mein on your System, simply click the three dots and then download.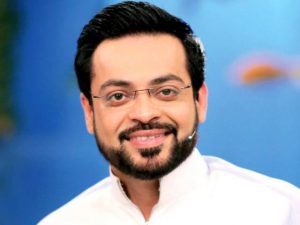 Aamir Liaquat Hussain stands among the most listened naat khawans of the time. He has a very charming and multi-dimensional personality. He has worked in the national assembly (The Lower House) of Pakistan in a religious ministry. His TV program "Aalam Online " got fame in a very wide spectrum. He was aired as a host in a number of other live shows including ramzan iftaar shows. He joined the ruling party of the country in 2017 and got success in the election17. He has always been under critic's eye in a number of issues ranging from his personal to professional life. Despite of all the controversies he has been through it is worth mentioning that he always defended his case in the best way. He had been successful with his beautiful hamds, naats and duas. His followers like him and his soothing voice thus back pushing all the defaming theories about him. Here we have compiled a list of all his naats which are liked by everyone. So must listen these naats and hit like if you too like it.
Disclaimer
: All the audio Naats at NaatSharif.com have been published by the users of NaatSharif.com, However if you believe that your copyrighted content has been posted without your permission, please
submit copyright complaint.