Allah Allah Shah E Konain Jalalat Teri
Allah Allah Shah E Konain Jalalat Teri is one of the favourite Naat by Owais Raza Qadri. The mellifluous and melow voice of Owais Raza Qadri is liked by the fans. Owais Raza Qadri has recorded this Matchless quality and favourite Naat Sharif in MP3 format. To download Owais Raza Qadri's Naat Allah Allah Shah E Konain Jalalat Teri on your Device, simply click the three dots and then download.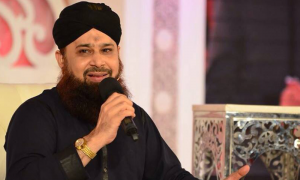 Owais Raza Qadri is also called as Bulbul e Madina for his passionate and heart-touching voice. He gave Naat-Khawani a whole new dimension and the way he has recited many old Naats has increased the popularity of Naats a lot. Owais Raza Qadri was born on July 8, 1970 at Metha Dar Karachi. Owais Raza Qadri started reciting naat e Rasool e Maqbool (Sallallahu Alayhi Wasallam) at the age of 8. His father was a businessman. He has two brothers and five sisters. His father died in a road accident when Owais Raza was just 10 year old. Allah G has gifted him with great voice and ability to move the listener's heart. Owias Raza's first Naat album was released in 1983.
Disclaimer
: All the audio Naats at NaatSharif.com have been published by the users of NaatSharif.com, However if you believe that your copyrighted content has been posted without your permission, please
submit copyright complaint.