Al Nabi Sallu Alai is one of the amazing Audio Naat by Hafiz Ahmed Raza Qadri. The soothing and soft voice of Hafiz Ahmed Raza Qadri is loved by the fans. Hafiz Ahmed Raza Qadri has recorded this Awesome quality and amazing Naat Sharif in MP3 format. To download Hafiz Ahmed Raza Qadri's Naat Al Nabi Sallu Alai on your Machine, simply click the three dots and then download.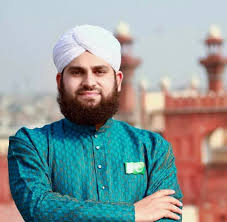 Hafiz Ahmed Raza Qadri needs no introduction. He started Naat Khawani in 2009 when he appeared on a TV channel in Ramzan in a sehri show but instantly got hit. He is one of the most successful Naat Khawan of 20th century. Since then, he has recorded many popular albums. He is often invited in different international platforms for Naat recitation. Naat sharif offers his latest and top Naats for you for free.
Disclaimer
: All the audio Naats at NaatSharif.com have been published by the users of NaatSharif.com, However if you believe that your copyrighted content has been posted without your permission, please
submit copyright complaint.