Nabi Yun Nabi is one of the amazing Audio Naat by Umme Habiba. The melow and soft voice of Umme Habiba is highly regarded by the fans. Umme Habiba has recorded this Excellent quality and amazing Naat Sharif in MP3 format. To download Umme Habiba's Naat Nabi Yun Nabi on your Machine, simply click the three dots and then download.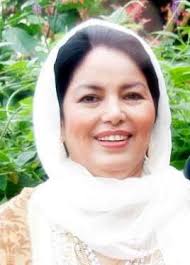 Umme Habiba is a senior female Naat Khawan from Pakistan. She is a resident of Chicago  Illinois. But Occasionally she use to visit Pakistan, USA and many other countries. Her naats are loved in the whole world. She possesses a unique style of Naat recitation. Her naats provide therapy and calmness to soul. She has appeared on many TV shows but has recorded very limited Naat Sharif. Her style of Naats is greatly admired and loved by the listeners.
Umme Habiba is a very decent and calm personality. She possesses a very mature and dignified behavior. She seems to be a responsible naat khawan because she remains very careful about the content which she chooses for her naats and hamds. This is the reason that her naat receive a great fame and appreciation around the world.  Naat sharif provides her top Naats for free online.
Disclaimer
: All the audio Naats at NaatSharif.com have been published by the users of NaatSharif.com, However if you believe that your copyrighted content has been posted without your permission, please
submit copyright complaint.