Sarkar De Vekhan Da is one of the amazing Audio Naat by Fasihuddin Soharwardi. The tuneful and soft voice of Fasihuddin Soharwardi is praised by the fans. Fasihuddin Soharwardi has recorded this Flawless quality and amazing Naat Sharif in MP3 format. To download Fasihuddin Soharwardi's Naat Sarkar De Vekhan Da on your Machine, simply click the three dots and then download.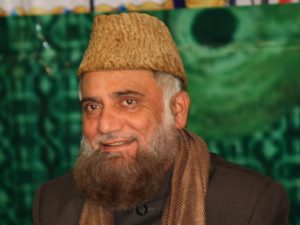 Fasihuddin soharwardi is one of the leading talent of country in the field of nasheeds and naats. He is the most respected and humble Naat He belongs to a Syed Family.He started his nasheeds while he was just a five year old kid. He was born in Karachi his father Syed Riazuddin Soharwardy is also a famous nasheed khawan. Fasihuddin soharwardi has learnt a lot from his father which is the reason he started at a very early age. He received his early education from Karachi, in his professional education he have obtained a masters degree in Islamic studies, a law degree from urdu university Karachi and masters of journalisim degree. He is a lawyer by profession but he hardly finds time to practice law because he often travels to different parts of the world on special invitations to recite Naats. He is known for recording more than 5000 Naats in multiple languages.
His most work is in urdu language but he also recites in Pashto, Punajbi , Saraeki, Farsi and Persian. He has travelled to Europe and America to perform his naats in different shows for a number of time. He is a senior Naat khawan and has been invited on TV shows at multiple occasions. This shows he is loved far and wide.His naat "Khuda ka zikar kary , Zikare Mustafa na kary" and "Main to panj tan ka ghulam hun" are ever green naats , as these are listened in every time and decade. Fasihuddin have a great contribution in naats and nasheeds that will be loved, listened and appreciated years long.
Disclaimer
: All the audio Naats at NaatSharif.com have been published by the users of NaatSharif.com, However if you believe that your copyrighted content has been posted without your permission, please
submit copyright complaint.