Saj Gaye Asman is one of the favourite Naat by Hafiz Ahmed Raza Qadri. The musical and sweet voice of Hafiz Ahmed Raza Qadri is appreciated by the fans. Hafiz Ahmed Raza Qadri has recorded this HQ quality and favourite Naat Sharif in MP3 format. To download Hafiz Ahmed Raza Qadri's Naat Saj Gaye Asman on your Device, simply click the three dots and then download.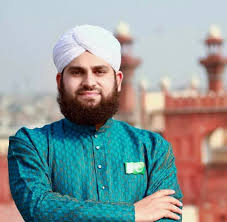 Hafiz Ahmed Raza Qadri needs no introduction. He started Naat Khawani in 2009 when he appeared on a TV channel in Ramzan in a sehri show but instantly got hit. Hafiz Ahmed Raza Qadri is a young melodious sound that has added great content in the history of naats, nasheeds and hamds. He belongs to a famous religious family in the heart of Lahore. His grand father Sheikh Siddique Chishti (R.A) is among the word's renowned naat khawan of his time and still remembered and listened by his lovers.
Hafiz Ahmed Raza Qadri has received his education from Lahore in the field of commerce. He has been attached to naat khawani since a decade. His albums have been recorded by Geo TV and QTV subsequently. He has appeared in a number of television shows to recite naats and to evaluate emerging naat khawans. He use to travel all around the world to recite naats and to pread the love of Prophet Mohammad SAW in his beautiful voice. He has been awarded with a number of prestigious awards in his field. But to be humble and down to earth he says " Its enough for him that Allah Almighty have choosen him for praising his loved Prophet". Naat sharif offers his latest and top Naats for you for free.
Disclaimer
: All the audio Naats at NaatSharif.com have been published by the users of NaatSharif.com, However if you believe that your copyrighted content has been posted without your permission, please
submit copyright complaint.