Me Bhi Roza Rakhunga Ya Allah
Me Bhi Roza Rakhunga Ya Allah is one of the best Naat Sharif by Kaif Miandad. The soft and mellifluous voice of Kaif Miandad is loved by the fans. Kaif Miandad has recorded this Fabulous quality and best Naat Sharif in MP3 format. To download Kaif Miandad's Naat Me Bhi Roza Rakhunga Ya Allah on your System, simply click the three dots and then download.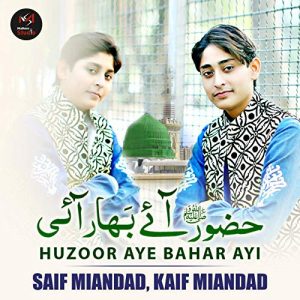 Kaif Miandad and Saif Miandad are two brothers. They started their qawalli career and had been very successful in it. Their naats have gained a wide spread popularity and Millions of view in a very short span of time. They use to practice each day as said in an interview. kaif miandad have won a number of national level awards. Their sound tracks will soon become the super hit tracks. As both of them are honest to their work and present each kalam in a very decent and bearable tone. We have listed a number of their tracks and more will be added soon InshaAllah.
.
Disclaimer
: All the audio Naats at NaatSharif.com have been published by the users of NaatSharif.com, However if you believe that your copyrighted content has been posted without your permission, please
submit copyright complaint.