Mai Bhi Roze Rakhunga is one of the best Naat Sharif by Hammad Roohani. The soothing and melow voice of Hammad Roohani is loved by the fans. Hammad Roohani has recorded this Awesome quality and best Naat Sharif in MP3 format. To download Hammad Roohani's Naat Mai Bhi Roze Rakhunga on your System, simply click the three dots and then download.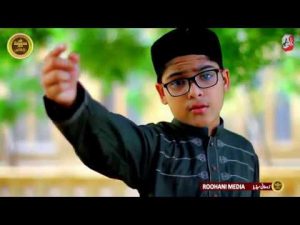 Hammad Roohani is a kid naat khawan. His most melodious and cute voice has gained a great love from all over the world. Children especially likes his naats and duas. His dua "Main be rozay rakhunga" which was released in the year 2019 in the month of ramzan remained popular among kids of all ages. His another dua "Main hafize Quran banu ga" has also been popular in 2018.
He has a very soulfull voice. Hammad Roohani interest in naat khawani will lead him to an everlasting respect and love. Here we have compiled a number of naats , nasheeds, and hamds by hammad rohani, which our audience can listen for free and appreciate and love Hammad for his talent.
.
Disclaimer
: All the audio Naats at NaatSharif.com have been published by the users of NaatSharif.com, However if you believe that your copyrighted content has been posted without your permission, please
submit copyright complaint.