Jannat Ka Majra is one of the favourite Naat by Rahat Fateh Ali Khan. The mellifluous and soothing voice of Rahat Fateh Ali Khan is liked by the fans. Rahat Fateh Ali Khan has recorded this Matchless quality and favourite Naat Sharif in MP3 format. To download Rahat Fateh Ali Khan's Naat Jannat Ka Majra on your Device, simply click the three dots and then download.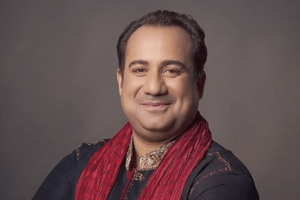 Rahat Fateh Ali Khan is one of the most successful singer, Naat Khawan and Qawal of 21st century. Being the nephew of Great Nusrat fateh ali khan and under his mentorship, he learnt classical music. He is behind the success of most of the bollywood movies. He has received many awards and has also performed on international platforms. All of his Naats has provided in high quality mp3 format for you at NaatSharif.com.
Disclaimer
: All the audio Naats at NaatSharif.com have been published by the users of NaatSharif.com, However if you believe that your copyrighted content has been posted without your permission, please
submit copyright complaint.