Huzoor Aisa Koi Intezam Ho Jaye
Huzoor Aisa Koi Intezam Ho Jaye is one of the favourite Naat by Waheed Zafar Qasmi. The musical and soothing voice of Waheed Zafar Qasmi is appreciated by the fans. Waheed Zafar Qasmi has recorded this HQ quality and favourite Naat Sharif in MP3 format. To download Waheed Zafar Qasmi's Naat Huzoor Aisa Koi Intezam Ho Jaye on your Device, simply click the three dots and then download.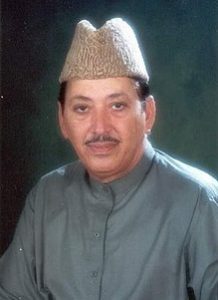 Waheed Zafar Qasmi is a renowned senior classical Naat Khawan. He is blessed with a sweet and heart-touching voice. He has participated in many international Qiraat competitions and have won many too. He is a famous naat khawan in the whole country as well outside of it.
Waheed Zafar Qasmi started naat hkawani and recitation at a mild age of seven. His accent tone and pitch is very admirable because of which he have won many national and international awards and honors. He have won competition in Libya , Syria and KSA. He has been a judge in a naat and qirat competition in Pakistan. He has been working for radio Pakistan for a long time. Goverenment of Pakistan have awarded him the "Pride of Performance" award for his great talent and work.
Disclaimer
: All the audio Naats at NaatSharif.com have been published by the users of NaatSharif.com, However if you believe that your copyrighted content has been posted without your permission, please
submit copyright complaint.