Har Zamana Mere Hussain Ka Hai
Har Zamana Mere Hussain Ka Hai is one of the favourite Naat by Farhan Ali Waris. The musical and soothing voice of Farhan Ali Waris is appreciated by the fans. Farhan Ali Waris has recorded this HQ quality and favourite Naat Sharif in MP3 format. To download Farhan Ali Waris's Naat Har Zamana Mere Hussain Ka Hai on your Device, simply click the three dots and then download.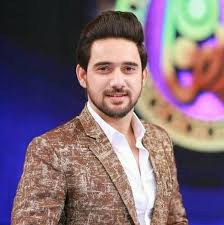 Farhan Ali waris is another emerging talent in the field of noha khawani and naat khawani. He belongs to the most populated city of the country that is Karachi. He Belongs to a  Syed Family. His Father is Syed Mazhar Iqbal Rizwi. He real name is Syed Shujahat rizvi. Farhan started his naat khawani career in 1998. Farhan Ali Waris gained the rule over people's heart through the magical words of noha and naats. His speciality is in Noha recitation. People used to listen him for the love of Hussain and Panj tan. His love for Prophet SAW and the martyrs of Karbala is reflected in his voice. He recites in Urdu, Punjabi and Pashto and a few in english. He is very active over his youtube channel named by Farha Ali Waris. He uploads latest nohas and naats regularly over there. His all naats have million of views. His Noha "Ali Ali Moula" and "Har zamana mery Hussain ka ha" have been heared a million times over his youtube channel.He is one of a close friend of Amjad Sabri who was shot dead in Karachi in 2016.
Farhan is very compassionate about his work. He is a dedicated guy who pours purest of his work in every project. He have more than 400 naats and nohas to date. His hard work have lead him to receive a number of national and international awards.
Disclaimer
: All the audio Naats at NaatSharif.com have been published by the users of NaatSharif.com, However if you believe that your copyrighted content has been posted without your permission, please
submit copyright complaint.