Abbas Tere Dar Sa is one of the best Naat Sharif by Rahat Fateh Ali Khan. The soft and soothing voice of Rahat Fateh Ali Khan is loved by the fans. Rahat Fateh Ali Khan has recorded this Fabulous quality and best Naat Sharif in MP3 format. To download Rahat Fateh Ali Khan's Naat Abbas Tere Dar Sa on your System, simply click the three dots and then download.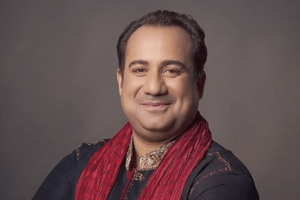 Rahat Fateh Ali Khan is one of the most successful singer, Naat Khawan and Qawal of 21st century. Being the nephew of Great Nusrat fateh ali khan and grandson of fateh Ali khan and under his mentorship, he learnt classical music. He was born in 1974 in the city of Faisalabad.
Rahat fateh Ali khan have been in the music industry since a very early age.  He is behind the success of most of the bollywood movies. He is more popular for background music in Bollywood industry. His qawalis and ghazals are listened and appreciated in the whole world.
He has the distinction of being first ever Pakistani to perform in noble peace prize ceremony for the year 2014. Rahat have earned a record ticket selling concert at UK , where his concerts tickets have a record number of selling.His Bollywood songs got record views in a year and doubled in another year.
Rahat fateh Ali have faced many controversies in his life. But due to the love of people which they dedicate to him for his awesome work , he has always been successful in every new project. He have hosted many singing competition and have been judge of singing competition in a number of programs. He himself received a number of local national and international awards and honors. All of his Naats has provided in high quality mp3 format for you at NaatSharif.com.
Disclaimer
: All the audio Naats at NaatSharif.com have been published by the users of NaatSharif.com, However if you believe that your copyrighted content has been posted without your permission, please
submit copyright complaint.